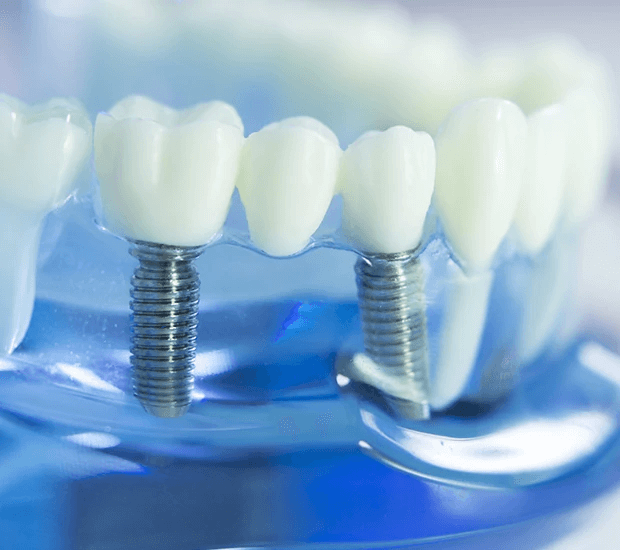 Patients can enjoy a more comfortable and functional bite after losing teeth with dental implants. Implants act as artificial roots to anchor permanent teeth replacements. If you are missing one or more teeth or need to have one extracted, dental replacements can be a great option to restore your smile.
Dental implants can be beneficial for people who want a tooth replacement option that closely imitates natural teeth. They can be a very effective long-term solution for missing teeth. Dental implants are available at Smile Fresh Dental in Auburn Hills and the surrounding area. Call our team at (248) 720-5771 to learn more about this service and set up an appointment.
At Smile Fresh Dental, dental implants are a permanent tooth replacement option. Dental implants consist of biocompatible titanium posts that your dentist surgically places in your jawbone to replace missing teeth roots. The implant replaces the missing tooth's root and acts as a base for a replacement crown. The crown sits atop the implant to replace the visible portion of the tooth. Once your dental implant has healed, a crown is attached to complete the restoration. Your new smile will look natural and function like your other teeth. You'll enjoy all your favorite foods and can brush and floss normally to keep your teeth and gums healthy.
Who Can Get Dental Implants?
Dental implants can be an option for almost everyone, but there are some circumstances where surgery may not be an option. Patients must be healthy enough to undergo the procedure and have enough bone in the jaw to support the implant. Other issues that may exclude certain patients are uncontrolled diabetes or heart disease. Patients who smoke also may not qualify because smoking can impede healing. People who have been treated for cancer may not be able to get implants due to the risk of radiation affecting the tissue. Pregnant women should not receive implants until after the baby is born because the growing baby could interfere with the healing process.
The Benefits Of Dental Implants
Improve Your Smile's Appearance
Dental implants can be used to cosmetically enhance a smile's overall appearance, including replacing missing teeth and restoring a beautiful smile after tooth loss or extraction.
Preserve Jawbone Density
Tooth loss can cause the jaw's bone density to deteriorate over time. Dental implants can help prevent this by stimulating bone growth and preventing deterioration of the gums and jaw.
Permanently Replace Teeth
Unlike dentures, dental implants are permanently placed in the mouth and will not shift or move while eating or talking. They are designed to resemble natural teeth in appearance, feel, and function.
Easy To Maintain
Brush twice a day, floss once a day, and rinse with an antibacterial mouthwash to keep your dental implants and oral health in tip-top shape!
Protect Surrounding Teeth
Because the best treatment for many common dental issues is often prevention, dental implants can protect healthy teeth and gums from further damage by preventing further decay or infection from occurring in the empty tooth socket left behind by a missing tooth.
The Dental Implant Process
Dental implants act as artificial tooth roots to support new replacement teeth. During the procedure, an incision is made in the patient's gum to expose the bone where the implant will be placed. We will then insert the implant and suture the gum around the implant post. In some cases, a temporary denture is used instead of replacement teeth.
Following the surgery, the bone needs to heal around the dental implant. This process can take several weeks or months. Once it is sufficiently strong, a dentist can fit the permanent replacement teeth. According to the Mayo Clinic, some extra steps may be necessary. For patients with weak jawbones, a bone graft may be needed to ensure sufficient strength. After the bone has healed, an abutment connects a crown or dentures to the dental implant.
"Dental implants act as artificial tooth roots to support new replacement teeth."
How To Care for Dental Implants
Caring for dental implants is very similar to caring for natural teeth, especially if the replacement teeth are permanent. Brushing, flossing, and rinsing with mouthwash is necessary for maintaining proper oral hygiene with implants. Getting regular checkups and teeth cleanings at the dentist are important for taking care of replacement teeth.
Dental implants may require extra cleaning to keep them in optimal condition. Removable, implant-supported dentures should be taken out at night and soaked in a denture solution. Patients can also use an oral irrigator to help clean below and around the dental implants.
"Caring for dental implants is very similar to caring for natural teeth, especially if the replacement teeth are permanent."
What To Expect After the Procedure
Following the procedure, it is common to have swelling and discomfort around the implantation site. Some patients may experience minor bleeding and bruising of the skin and gums in the treatment area. These side effects can be managed with pain medication and antibiotics if necessary. Patients can expect such side effects to subside after a few days.
After receiving dental implants, it is best to stick to eating soft foods while the bone heals. Most dental implant procedures use dissolvable stitches, so patients will not have to come back to get them removed. These stitches will usually fall out within seven to 10 days. Following the aftercare instructions and advice will help the healing process.
"Following the procedure, it is common to have swelling and discomfort around the implantation site."
Benefits of Dental Implants
Dental implants can be a good choice for many patients with missing teeth. Dental implants allow new teeth to feel, look, and function naturally. Here are some key benefits of dental implants:
Comfortable: Dental implants act as tooth roots and stay firmly in place. This firm foundation makes them more comfortable than dentures and other replacement tooth options. Many patients report that implants feel similar to their natural teeth.
Functional: The stability of implants makes them effective for eating, talking, and cleaning. They function similarly to the teeth they are replacing. Less permanent options may interfere more with daily life.
Permanent: Dental implants are one of the most permanent tooth replacement options. They can last a lifetime with good care. Additionally, fixed replacement teeth on implants do not need to be removed every day for cleaning.
Natural-looking: Implant-supported replacement teeth look like natural teeth. The visible part of the dental implant is a cosmetic crown made from a composite material that is color-matched to the patient's tooth enamel. It can be hard to tell the difference. Many patients enjoy dental implants' aesthetic appeal, as others cannot tell the difference between the replacement and natural teeth.
"Dental implants allow new teeth to feel, look, and function naturally."
Questions Answered on This Page
People Also Ask
Frequently Asked Questions
Q. How do I know if I am a candidate for dental implants?
A. According to WebMD, most healthy people are good candidates for dental implants. However, weak or unsubstantial jawbone mass may limit whether a patient can receive implants. Restorative procedures like bone grafting can overcome this issue in some cases. A dentist can determine whether a patient is a candidate during an exam and consultation.
Q. What is the success rate of dental implants?
A. According to the Cleveland Clinic, dental implants have a success rate of up to 97%. Furthermore, they can last a lifetime with proper care. Dental implants are one of the most permanent solutions for missing teeth.
Q. How much do dental implants cost?
A. The cost of dental implants will vary depending on the patient's needs, bone quantity, and the treatment area. Dental implants may qualify for some insurance coverage, but situations will vary. People interested in receiving this procedure should contact their insurance provider and receive a consultation to learn more about the cost.
Q. Are dental implants removable?
A. The dental implant is permanent. The replacement teeth that sit on them can be fixed or removable. Fixed dentures are the preferred option for many patients due to their stability and comfort.
Q. Do I need full dentures to get implants?
A. No, implants may support one or more replacement teeth. Some patients receive partial dentures with multiple teeth, while others receive a full arch of teeth. Dental implants are a flexible solution for each patient's needs.
Quality Dental Services Can Transform Your Smile
By visiting us as soon as possible, our team can help get you the professional treatment you need. Instead of waiting around and allowing the symptoms to get worse, we can provide you with treatment options.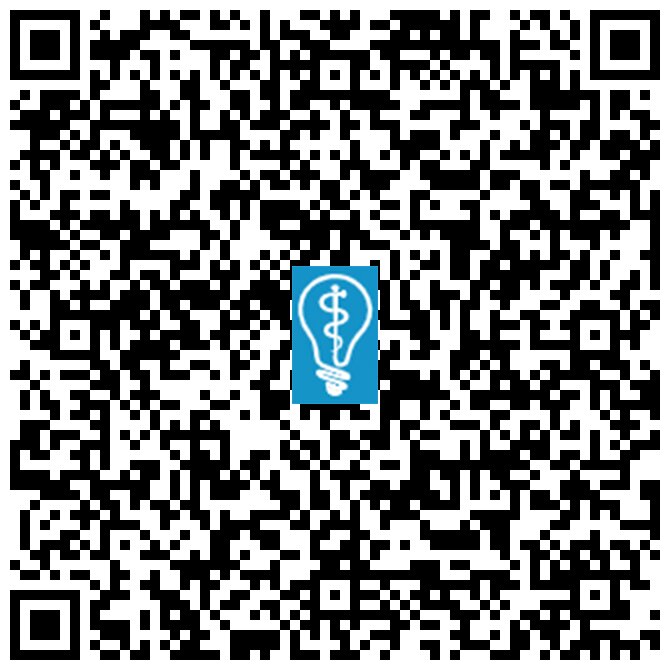 Scan here to view this page, Preventative Dental Care, on mobi
Dental Implant Terminology
Abutment

An abutment is a component that attaches to the dental implant so a professional can place a dental crown to provide patients with an artificial, aesthetically pleasing and fully-functional smile.

Bridge

Multiple replacement teeth that are fixed in place via attachment to dental implants, natural adjacent teeth, or a combination of the two.

Dental Crown

A crown is an artificial tooth, usually consisting of porcelain, which covers the top of the implant to provide people with an aesthetically pleasing and fully-functional tooth.

Dental Implant

A dental implant is an artificial tooth root that is placed into your jaw to hold a replacement tooth or bridge. Dental implants may be an option for people who have lost a tooth or teeth due to periodontal disease, an injury, or some other reason.

Endosteal (endosseous)

Endosteal is a type of dental implant that a professional places in the alveolar and basal bone of the mandible that transcends only one cortical plate.

Eposteal (subperiosteal)

Eposteal is a type of dental implant that conforms to whichever edentulous surface of an alveolar bone is superior.

Implant-Supported Bridge

An implant-supported bridge is a dental bridge that professionals fix in place with the use of dental implants inserted in the jaw to create a sturdy set of artificial teeth.

Osseointegration

Osseointegration is the process in which a titanium dental implant fuses with the surrounding bone over several months after an oral health professional places the implant in the jaw.

Periodontal

Literally "around the tooth"

Resorption

Resorption is the process in which the body absorbs the calcium from the jaw since there are no tooth roots to cause the necessary stimulation and proceeds to use the calcium in other areas.

Transosteal (transosseous)

Transosteal is a type of dental implant that includes threaded posts which penetrate the superior and inferior cortical bone plates of the jaw.
Call Us To Learn More About Dental Implants
Dental implants closely imitate the form and function of natural teeth. If you are missing teeth, this may be the solution for you. Call (248) 720-5771 to set up an appointment at Smile Fresh Dental and learn more about this procedure.
Helpful Related Links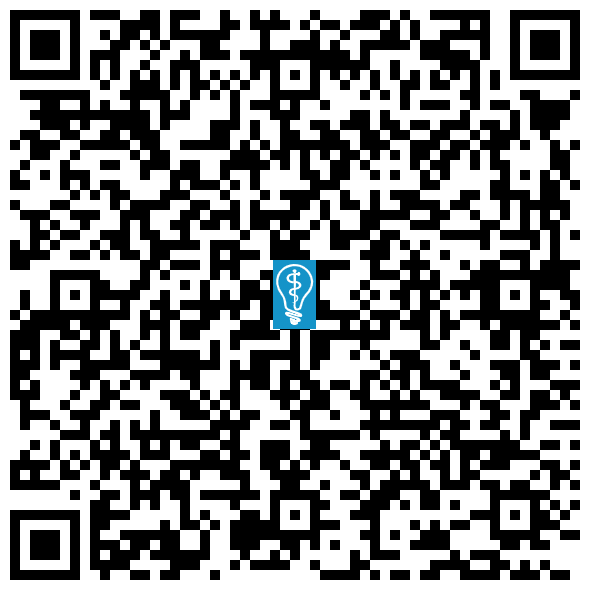 Scan here to open directions to Smile Fresh Dental on mobile
About our business and website security
Smile Fresh Dental was established in 2015.
We accept the following payment methods: American Express, Cash, Check, Discover, MasterCard, and Visa
We serve patients from the following counties: Oakland
We serve patients from the following cities: Auburn Hills, Bloomfield Hills, Troy, Pontiac, and Rochester Hills
Norton Safe Web. View Details
Trend Micro Site Safety Center. View Details