Dental Crowns and Dental Bridges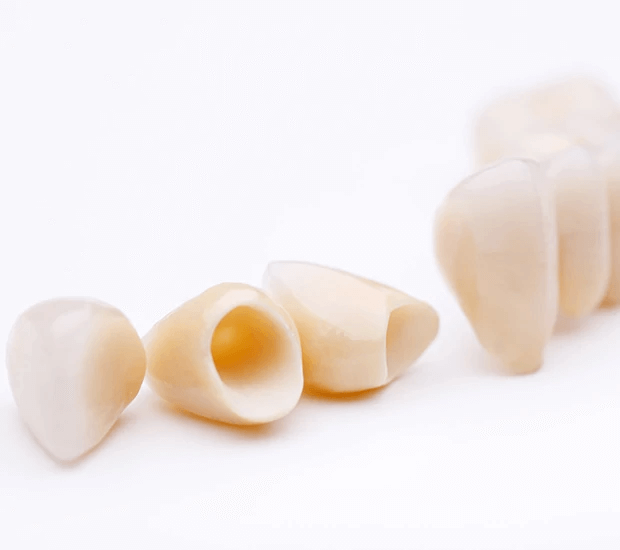 One of the most common dental treatments involves fixing tooth decay. The first line of defense against a cavity is a filling. However, deeper decay may require more extensive repair. In such cases, dentists may rely on a dental crown treatment or a dental cap.
Dental crown treatment is available at Smile Fresh Dental in Auburn Hills and the surrounding area. Crowns help restore a tooth that has significant damage with a custom-sized cap that fits over the old tooth. We provide dental crowns and restorations for our patients. For broken, damaged, or decaying teeth, crowns may be the right solution. Call us at (248) 720-5771 to get your teeth problems checked out today.
Dental Crowns Explained
According to the American College of Prosthodontists, the most common dental restoration is a single dental crown. Dentists utilize dental crowns in a variety of treatment situations. Crowns may help protect vulnerable teeth from further decay. They may cap damaged teeth and cover deep fillings. Crowns often complete dental implants or cover teeth treated with root canals. Dentists can work with their dental lab and the patient to create custom-fitting dental crowns that may restore a tooth's shape and size to near perfect.
"Dentists can work with their dental lab and the patient to create custom-fitting dental crowns that may restore a tooth's shape and size to near perfect."
How Dental Bridges Work with Dental Crowns
It is not uncommon for patients to get dental crowns to complete a dental bridge. According to WebMD, bridges fill in the gap left behind by a missing tooth. If a patient has a single missing tooth, dentists may restore it by creating a dental appliance that anchors to the two adjacent teeth. The dentist must reshape the two abutment teeth to secure the dental bridge. Reshaping these teeth involves removing much of the enamel. The abutment teeth are topped with dental crowns which attach to the new artificial tooth that makes up the middle piece of the bridge.
"The dentist must reshape the two abutment teeth to secure the dental bridge."
Why Patients Get a Dental Crown
Some patients may choose dental crowns to avoid further damage or decay to an existing tooth or to maintain an aesthetically pleasing smile. Crowns can also help prevent tooth loss that could lead to additional oral health problems and more expensive dental work. Additionally, patients may find crowns help them maintain a normal bite and keep the teeth from shifting.
"Crowns also help prevent tooth loss that could lead to additional oral health problems and more expensive dental work."
Check out what others are saying about our dental services on Yelp: Dental Crowns and Dental Bridges in Auburn Hills, MI
Receiving a Dental Crown Step-by-Step
It may take a few appointments for a patient to receive a crown. In many cases, the dental crown procedure is part of another dental treatment plan, such as a root canal. Here is the step-by-step process for getting a dental crown:
Before the Crown. The dentist treats any problems before starting the dental crown creation process. Any infections or cavities must be addressed or filled. Sometimes, an old crown needs replacement. In this case, the dentist will remove the remnants first.
Preparation. Next, the dentist must prepare the tooth for the crown. The dentist or another member of our team will shave down the tooth to make room for the crown. Then, the dental staff makes a series of impressions to send to the lab. Some patients receive a temporary crown at the end of this appointment.
Crown Delivery. Once the crown is ready for delivery, the patient must return to the office for placement. First, the dentist tries on the crown to make sure it feels and looks right in the mouth. If it fits correctly, the dentist uses dental cement to glue it in place permanently.
"In many cases, the dental crown procedure is part of another dental treatment plan, such as a root canal."
A crown is a tooth-shaped "cap" placed over a tooth to restore its function and appearance and provide strength and support to the surrounding teeth. At Smile Fresh Dental Grand Blanc, dental crowns can be made from different materials, including porcelain which can be matched to the color of your natural teeth for a natural look. If a crown is needed due to a cavity, metal or ceramic may be used to strengthen the restoration. Gold has also been used in the past due to the belief that it could be more robust than other materials. Porcelain is favored for cosmetic dentistry because it gives your smile a natural shine and color. In addition, most types of porcelain are stain resistant.
The Procedure for Dental Crowns
Preparing your tooth for a crown usually involves removing damaged portions to provide room for the crown to be placed on top. Your dentist will then take an impression of your prepared tooth and match it to ensure a proper fit. The impression will then be sent to a dental lab where a dental technician will make your custom crown. Once received back at the dental office, the crown will be adjusted to ensure a comfortable and secure fit before bonding. It is essential to care for your new crown the same way you would for your natural teeth to avoid complications and the need for a replacement in the future. This means practicing good oral hygiene at home in addition to regular visits to the dentist for routine cleanings and exams. By brushing your teeth at least twice a day and flossing daily, you can help remove plaque and food particles from your teeth while also helping to prevent gum disease.
The Benefits of Dental Crown
A crown is a cap that covers your entire tooth to restore it to its original size and shape. It also strengthens your tooth structure to make it more durable and to improve its appearance. If your tooth is cracked, broken, or worn down, it may need a dental crown.
Shifting teeth can impact your bite, speech, and oral health. Not only will your smile be more attractive, but you'll be able to chew and speak normally. Dental crowns are sometimes even used to protect teeth from further harm. For instance, if you have a damaged baby tooth, we can place a crown over it to protect it until it falls off naturally. If you have a large cavity or need cosmetic restoration after braces, crowns may also be recommended.
Questions Answered on This Page
People Also Ask
Frequently Asked Questions
Q. Does getting a dental crown hurt?
A. During preparation, the dentist may numb the area for the patient's comfort. After fitting, patients may have a little soreness in the area where the crown sits for a few days. Pain that continues well after the crown fitting may indicate a poor fit, which requires a return visit for an adjustment.
Q. Does a dental crown look natural?
A. Most dental crowns look just like the rest of the natural teeth. Dentists work to help patients select a natural-looking shade for the new dental crown that matches the other teeth. Today's dental crowns are indistinguishable from permanent teeth.
Q. Does a dental crown need replacement?
A. Dental crowns need replacement over time. The crown's material and the patient's oral health may determine how often they will need replacement. On average, it takes five to 15 years before crowns require replacement.
Q. Are crowns a cost-effective choice?
A. Patients should discuss dental crown options with their insurance provider to see if crowns are covered. Crowns that are part of a treatment plan, such as tooth decay repair, may have a higher likelihood of insurance coverage. The choice of material for the crown also influences the cost.
Q. How long will it take to get a crown?
A. The length of the dental crown treatment is dependent on several factors. Crowns that are part of a root canal or another intensive treatment may take longer because of the other steps in the procedure. Talk to the dentist to get an idea about how long the crown process will take.
Q. What are the alternatives to getting a crown?
A. Patients may have other options besides dental crowns, depending on their case and situation. For some patients, a filling, inlay, or onlay may be sufficient to restore the tooth. Pulling the tooth may also be a viable alternative to a dental crown.
Quality Dental Services Can Transform Your Smile
By visiting us as soon as possible, our team can help get you the professional treatment you need. Instead of waiting around and allowing the symptoms to get worse, we can provide you with treatment options.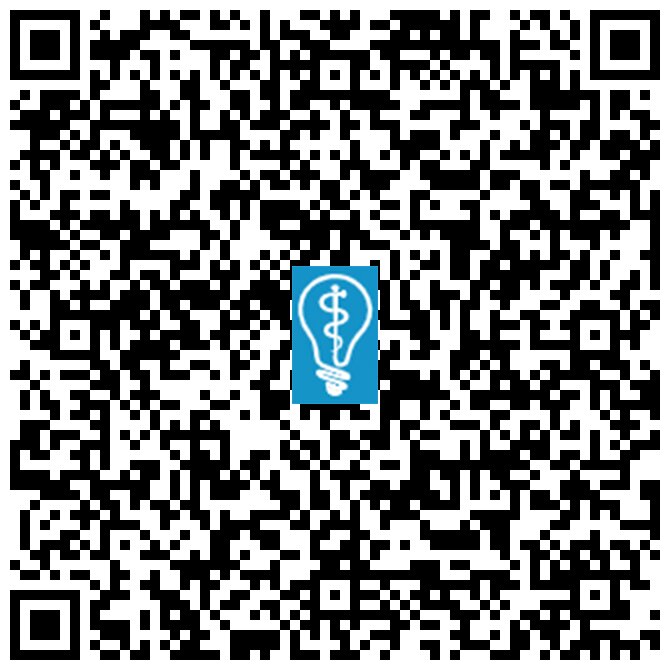 Scan here to view this page, Preventative Dental Care, on mobi
Cosmetic Dentistry Terminology
Allograft

An allograft is a graft of tissue from a donor within the same species as the patient that is not a genetic relative.

Alveolar Ridge

The alveolar ridge is the bony ridge for one of the jaw ridges located on the roof of the mouth or on the bottom of the mouth.

Autograft

An autograft is a graft of tissue from one portion of an individual's body to another.

Bleachorexia

Bleachorexia is when people continue to abuse teeth whitening solutions without consulting professionals, causing significant damage to their enamel and gums in the process.

Cap Splint

A cap splint is a plastic or metallic device that professionals may use to treat mandible or maxillary fractures and cover crowns of teeth.

Cosmetic Dentistry

Cosmetic dentistry is generally used to refer to any dental work that improves the appearance (though not necessarily the function) of a person's teeth, gums and/or bite.

Crown Lengthening

Crown lengthening is a surgical procedure that increases the extent of a tooth structure for restorative or esthetic purposes.

Dental Crown

A crown is an artificial tooth, usually consisting of porcelain, which covers the top of the implant to provide people with an aesthetically pleasing and fully-functional tooth.

Dentin Hypersensitivity

Dentin hypersensitivity is when the enamel wears down on the tooth enough that the dentin faces exposure and will cause great levels of pain when a person applies pressure to the tooth or drinks hot/cold beverages.

Dentist

A dentist, also known as a dental surgeon, is a doctor who specializes in the diagnosis, prevention, and treatment of diseases and conditions of the oral cavity.
Call Us to Get More Details
Our dental crown options in Auburn Hills give patients choices for tooth restoration. If you have concerns about your teeth, call us today at (248) 720-5771 to schedule a consultation regarding any questions you have about our dental crown services.
Helpful Related Links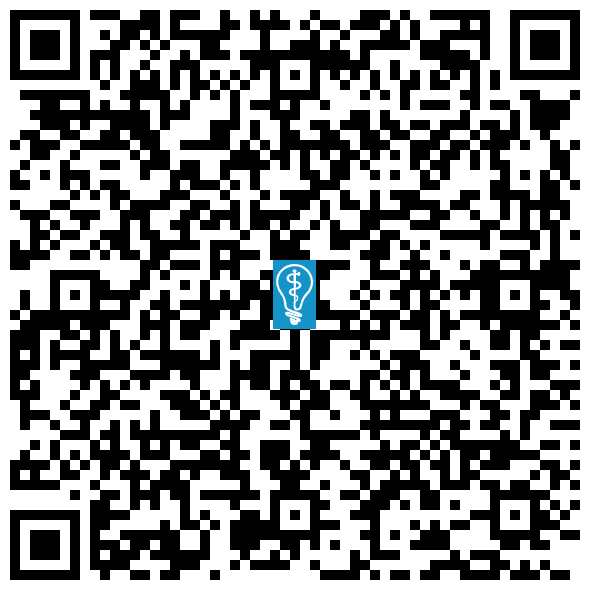 Scan here to open directions to Smile Fresh Dental on mobile
About our business and website security
Smile Fresh Dental was established in 2015.
We accept the following payment methods: American Express, Cash, Check, Discover, MasterCard, and Visa
We serve patients from the following counties: Oakland
We serve patients from the following cities: Auburn Hills, Bloomfield Hills, Troy, Pontiac, and Rochester Hills
Norton Safe Web. View Details
Trend Micro Site Safety Center. View Details