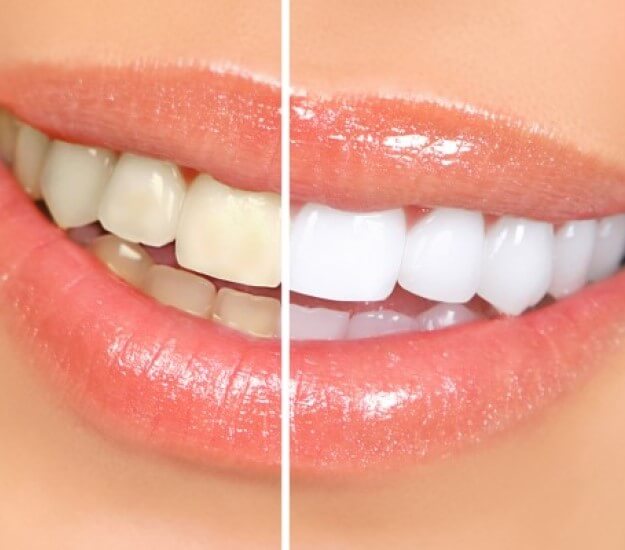 KöR Whitening(™) offers unique treatments that produce brighter teeth for patients with a range of dental staining and discoloration. This versatile teeth whitening system works on even the toughest cases. Patients who undergo KöR Whitening are pleased to enjoy striking and long-lasting results.
At Smile Fresh Dental, we offer KöR Whitening to patients in Auburn Hills and the surrounding area. If you are looking for a way to renew your smile, we can help. To learn more about this procedure or schedule an appointment, call (248) 720-5771 today.
Why KöR Whitening?
Whiter teeth are associated with health, youth, and vitality. It is no wonder why tooth whitening has become one of the most frequently requested dental procedures by the public. With age and lifestyle habits, it is only natural for teeth to dull with time, and it makes sense that people would seek to regain their more youthful smiles.
KöR Whitening is helping patients revive these youthful smiles and renew confidence in their teeth. The myriad of whitening systems and products on the market make countless promises that many can not come close to delivering on. However, with its dual in-office and at-home treatments and follow-up protocols, KöR Whitening is helping patients remove even the toughest discolorations and reveal vibrant and more healthy-looking teeth.
Benefits of Teeth Whitening From a Professional
Now more than ever, there are dozens upon dozens of options when it comes to whitening teeth. Many are tempted to use over-the-counter products instead of a professional system like KöR Whitening. Though these products can produce desirable results, they typically take significantly longer than whitening treatments dentists provide—sometimes over twice as long.
Another worry with over-the-counter products—patients run a much higher risk of hurting their teeth and gums. However, KöR Whitening is overseen by a dentist to help decrease the risk of damage and unwanted side effects. Also, KöR Whitening treatments use customized trays tailored to each patient along with specially formulated solutions designed to reduce the risk of tooth and gum sensitivity.
How KöR Whitening Works
There are three levels of KöR Whitening treatment protocols so each patient can be matched with the level of treatment they need. For all patients, molds of the teeth are made to construct each patient's own unique KöR-Seal(™) Whitening Trays. All treatment plans involve the patient wearing the trays at home for at least two weeks. In-office treatment sessions are added where needed.
The three levels of treatment include:
KöR Home or Max: This plan involves at-home wear of the customized trays with an at-home whitening solution for just two weeks. KöR Home or Max is the recommended plan for the typical patient. This two week home treatment can be combined with one in-office treatment using a stronger solution for even stronger results (KöR Max).
KöR Ultra: Patients who need to tackle more stubborn discoloration may want to consider this plan. KöR Ultra begins with an in-office conditioning appointment, followed by three to four weeks of at-home tray whitening, and concludes with a final in-office whitening treatment.
KöR Ultra-T: This level of treatment produces the most dramatic results. KöR Ultra-T is even effective against tetracycline staining, which was once thought to be untreatable. As with Ultra, Ultra-T begins with in-office conditioning. The conditioning is followed with six to eight weeks of at-home tray wear and concluded with the in-office whitening visit.
All treatment protocols call for periotic at-home maintenance so the patient can maintain their results.
Benefits of KöR Whitening
In addition to being easily customized to each patient's needs, KöR Whitening offers a number of other advantages. KöR works without the need for special lights or lasers. The patient can choose when to wear their at-home trays: during the day or at night while they sleep. The special KöR Seal trays are designed to protect the gum tissue from irritation from the whitening gel and protect the gel from being diluted by the saliva in the mouth. KöR Whitening gel is constantly refrigerated to retain the gel's full whitening ability. These elements combined with KöR's special formulation work together to produce fast, dramatic, and long-lasting results.
Maintaining Your Results
Our team is committed to helping patients keep their results. KöR Whitening's periodic home maintenance protocol is designed to help patients keep their renewed smiles. This long-term maintenance plan calls for the typical patient to wear the whitening trays once per month after the initial whitening protocol. This practice helps remove staining agents that have accumulated on teeth since the last whitening. KöR Whitening's home maintenance is designed to stand up to highly staining foods and beverages such as coffee and red wine.
Another great advantage to KöR Whitening—even this maintenance plan can be customized to the patient. More challenging cases may require maintenance more than once a month. Our team will adjust the maintenance plan based on the client's unique needs.
Schedule a Visit Today
KöR Whitening consultations are available in Auburn Hills and the surrounding area. Our team at Smile Fresh Dental looks forward to helping you smile with confidence. Call our office at 248-260-2927 to learn more or schedule an appointment.
Frequently Asked Questions
Is KöR Whitening permanent
The initial whitening protocol will brighten teeth, but it is up to the patient to help keep them that way. The KöR Whitening maintenance plan is designed to help patients keep their results. Following a consistent dental hygiene routine with regular dental visits is also recommended.
How long does KöR Whitening take?
It is likely that the typical patient will need to wear the whitening trays daily for only two weeks. This is followed by monthly maintenance. However, tougher staining and discoloration may call for longer tray wearing coupled with in-office appointments.
Does KöR Whitening harm or weaken teeth?
If used as directed and under the guidance of a dentist, KöR Whitening does not weaken or harm teeth. The trays, along with the special formulation of the gel, are designed to whiten without irritating gums or harming teeth. Patients are more likely to harm their teeth and gums with store-bought whitening products.
Will KöR Whitening work on my crowns, bonding, or other dental work?
No, this teeth whitening treatment will not whiten crowns or other dental work. Patients with this type of dental work may need to replace this dental work after whitening. Our team will advise each patient regarding their dental work.
How much does KöR Whitening cost, and is it covered by insurance?
KöR Whitening is considered cosmetic and is typically not covered by insurance. The cost of your whitening treatments will depend on the plan you choose. A plan will be recommended to you at the consultation, and the cost will be reviewed then. Payment plans may be available.