People who wear clear braces can improve their smile inconspicuously. This type of teeth alignment adjuster is also known as clear wire braces or ceramic braces. Clear braces are an alternative to traditional metal braces to straighten teeth. They provide aesthetic benefits and health-related ones.
There are numerous factors to consider when choosing the right type of braces. It is important to do your research to determine if you are the right candidate for clear braces. Clear braces are available at Smile Fresh Dental in Auburn Hills and the surrounding area. Give our office a call at (248) 720-5771 and schedule an appointment to learn more.
How Clear Braces Work
Clear braces consist of plastic or ceramic brackets glued to each tooth. A wire made from metal or a white material connects the brackets. Over time, the wire pulls the teeth in different directions to straighten them. The American Association of Orthodontists explains that this movement occurs because of the bone tissue rebuilding process.
Clear braces take around 12 to 36 months to straighten teeth. Clear braces may take longer than metal braces to work because they consist of more fragile materials. The brackets on clear braces are replaced often to prevent breakage from pressure as teeth move. Low-quality ceramic braces can cause the brackets to break, resulting in an extended treatment time.
"Clear braces consist of plastic or ceramic brackets glued to each tooth."
Candidates For Clear Braces
Clear braces are a good option for those who want to wear braces without feeling self-conscious. Candidates should have all their adult teeth and have stopped growing, as ceramic braces can break if there is too much movement. This recommendation means most teenagers and adults are eligible for this type of alignment.
Children are often not good candidates for clear braces, as their mouths are still developing. Those who have more complex issues of the teeth, bite, and mouth should look into a more traditional option. Ceramic is less durable than metal, so those involved in extracurricular activities that involve a lot of mouth movement or contact sports may want to consider more durable metal braces.
"Clear braces are a good option for those who want to wear braces without feeling self-conscious."
Benefits and Drawbacks of Clear Braces
There are benefits and drawbacks to clear braces that candidates should consider. Clear braces provide cosmetic benefits as they are less noticeable on teeth than traditional metal braces. They are less visible because the ceramic material is either tooth-colored or clear. Clear braces work faster than clear aligners, which can take one year or longer to straighten teeth.
Although clear braces are less conspicuous, the material used is more fragile than traditional metal braces. This fragility means a bracket may crack during the process and need replacement. A 2016 study found that clear braces are more than twice as likely to break than metal braces. Another potential drawback is that clear bracket ties can stain easily. Patients should avoid this by brushing and flossing after every meal, avoiding foods and drinks that cause discoloration, and not smoking or using whitening toothpaste.
"There are benefits and drawbacks to clear braces that candidates should consider."
The Stages of Getting Clear Braces
People getting clear braces will often make a series of visits to the orthodontist. The purpose of these visits is to determine a treatment plan, place the braces on the patient, and make any necessary adjustments. This process occurs over numerous stages:
Initial Visit: The orthodontist will do a dental exam, take X-Rays, and discuss the patient's goals. The orthodontist will develop a treatment plan with this information. During this visit, an impression of the teeth helps with the design of the braces.
Pre-placement visit:Not everyone will need this appointment. Patients who have excessive crowding may need one or more teeth extracted to make room in the mouth. Before the placement of the braces, patients may need additional periodontal work.
Placement of the braces:The teeth will be cleaned, conditioned, and primed for the brackets. The impression mold determines the bracket position before cementing them on. We then insert a wire through the brackets.
Adjustments:Depending on the exact type of clear braces, patients may need to come in for regular adjustments of the wire. The patient will usually visit monthly for the readjustment. The new wire helps to continue the process of moving the teeth. These visits continue until the desired outcome is reached.
"People getting clear braces will often make a series of visits to the orthodontist."
Questions Answered on This Page
People Also Ask
Difference Between Clear Braces and Clear Aligners
One of the major differences between clear braces and clear aligner trays, such as Invisalign, is the material and texture. While clear aligners provide a smooth, plastic design, clear braces provide the durability that comes with traditional braces. This allows clear braces to be both sturdy and discreet without the fragility and wear-and-tear of plastic.
Another difference between clear braces and aligners is their treatment time. Clear braces may require a slight increase in treatment time compared to traditional metal braces, but they typically require less than clear aligners because of the constant force being applied on the teeth. Lastly, clear braces cannot be removed for eating and drinking as clear aligners can, making it more difficult to keep up oral hygiene. However, patients undergoing clear braces treatment are given detailed instructions on care and maintenance practices for both the braces and teeth themselves.
"While clear aligners provide a smooth, plastic design, clear braces provide the durability that comes with traditional braces."
Frequently Asked Questions
Q. How do clear braces differ from metal ones?
A. The two types are similar in that they are connected by a wire using brackets attached to each tooth. While an orthodontist needs to adjust the wires of metal braces regularly, this is not necessarily the case with clear ones if they contain technology that automatically adjusts. Clear braces are more fragile and typically make adjustments more slowly than metal ones.
Q. What is the difference between clear braces and clear aligners?
A. Clear braces use brackets and wires to move teeth. Clear aligners are customized mouthpieces. Typically patients whose dental issues are less severe get aligners. People with large spaces, extreme crowding, or very crooked teeth can get better results from clear braces.
Q. How do you clean clear braces?
A. Extra care is necessary when cleaning ceramic braces because the material is more brittle. Patients should always brush their braces and teeth after eating. It is also important to floss, using an interdental cleaner or floss threader. Patients should also avoid certain foods such as hard, chewy, acidic, and crunchy foods.
Q. Can clear braces help with gaps in the teeth?
A. Yes, clear braces can help with tooth gaps. Patients who have minor or moderate gaps can get effective results with this type of braces. The process may also take less time than it does for correcting a whole mouth of crooked teeth.
Q. How long does it take to straighten teeth with clear braces?
A. The straightening process varies based on factors like the brand, the severity of the dental problem, and the patient's age. The American Dental Association Patient Education Center says the average time braces stay on typically ranges from one to three years. After treatment, patients will need to wear a retainer to prevent the teeth from moving back to their previous position.
Quality Dental Services Can Transform Your Smile
By visiting us as soon as possible, our team can help get you the professional treatment you need. Instead of waiting around and allowing the symptoms to get worse, we can provide you with treatment options.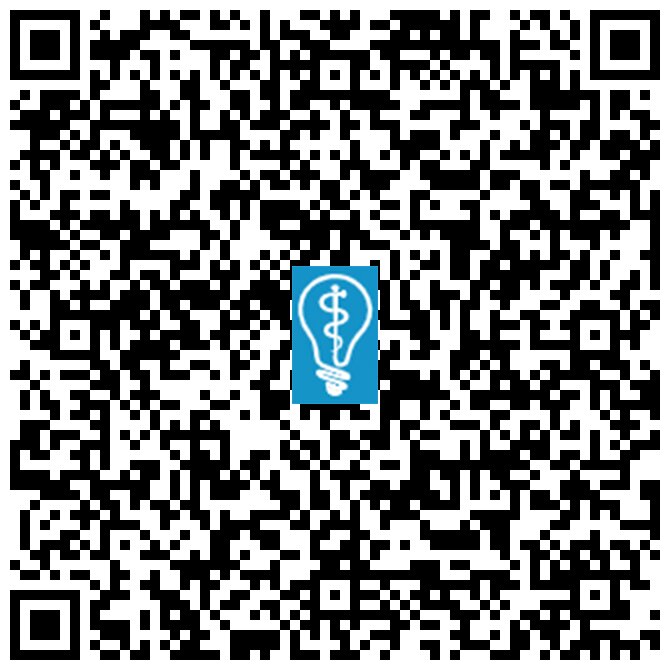 Scan here to view this page, Preventative Dental Care, on mobile
Invisalign® Terminology
Aligner Trays

With Invisalign® treatment, the patient will receive a series of aligner trays and swap out each one for the next one in the series every two weeks in order to gradually straighten the teeth.

Blue Compliance Indicator (Invisalign® Teen)

The blue compliance indicator is a small blue dot on the aligners that will fade from blue to clear in order to indicate if the patient is wearing the aligner for the proper amount of time and where the patient is in the Invisalign® process.

ClinCheck® Software

ClinCheck® software allows professionals to map out the straightening process the patient's teeth will go through with Invisalign® in great detail.

Gum Line

The gum line is the line in the mouth where the teeth and gums meet. If a patient struggles with gum recession, then the gum tissue around the teeth may begin to wear away.

Incisal Ridges

Incisal ridges are the portion of the crown of the tooth that makes up the incisal portion and can be a direct cause of overbite if they are extended too far.

iTero Element® Scanner

An iTero Element® scanner allows professionals to create a 3D image of the patient's teeth in minutes and predict what it will take to move the teeth into proper alignment.

Malocclusion

Malocclusion is the condition in which the upper and lower teeth do not meet properly when the bite is closed. Conditions of malocclusion can include overbite, underbite, crossbite and open bite; all of which are treatable with Invisalign®.

Overbite

An overbite is a type of malocclusion that occurs when the upper teeth jut out over the lower teeth, covering them and causing other issues.

Polyurethane Resin

Polyurethane Resin is a USP Class VI medical grade, high molecular weight compound that makes up the Invisalign® aligners.

SmartForce Attachments

SmartForce attachments are small attachments that professionals place on the patient's teeth before placing aligners to help move the teeth.

Smart Track® Material

Smart Track® material is in Invisalign® aligners to increase comfort, improve control of movement, increases the speed of treatment and applies a gentle force to the teeth over time.

Smile-Scan

Smile-Scan analyzes the way a patient smiles by measuring the position of the mouth and eyes before giving a score.

Vivera® Retainers

Vivera® retainers are a type of retainer that consists of clear plastic material and helps to maintain orthodontic corrections after a treatment.
Call Us Today
Clear braces are a great way to achieve a beautiful smile without feeling self-conscious about visible braces. Contact Smile Fresh Dental at <(248) 720-5771 and learn more about clear braces and whether it is the right tooth straightening option for you.