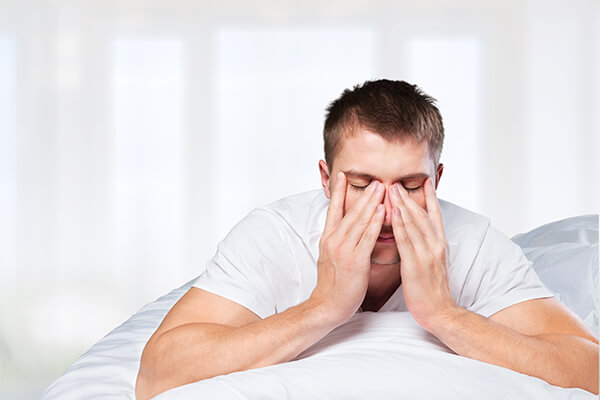 If you have sleep apnea, it might at first seem like more of a nuisance for your partner than for you, especially if your primary symptom is snoring. Is it a good idea to find a solution that merely minimizes the effects on your sleeping partner — such as noise-canceling earbuds to mask the sound — and then just carry on?
The short answer is no. It is important to have your sleep apnea diagnosed and treated because ignoring it can have severe consequences for your health and even increase your mortality risk. Here is what you need to know.
Symptoms and diagnosis
Sleep apnea is when you stop and start repeatedly breathing while sleeping due to a problem with your airway. While this does not sound healthy — and indeed, it is not — many people are not aware that they are doing it and therefore may not know that they have sleep apnea, especially if they sleep alone or do not snore. Here are some of the other symptoms to be aware of:
Excessive tiredness during the day
Difficulties with concentration and focus
Dry mouth upon waking
Sexual performance problems
If you have any of these issues, or if your partner tells you that you snore or gasp for air during the night, talk to your doctor or dentist. They can order a sleep study, which is the primary way to diagnose sleep apnea. During this test, your breathing is monitored while you sleep, and the number of times you stop and start breathing is measured and recorded.
If it is determined that you have this disorder, your doctor or dentist will go on to diagnose what type you have. One of the most common types is obstructive sleep apnea, in which your airway is obstructed during sleep due to the relaxation of your throat muscles. Other types include central and complex. According to 2015 research conducted by the National Institutes of Health, between 4% and 50% of the population may have obstructive sleep apnea. It is more common in men than it is in women.
Side effects and treatment
Untreated sleep apnea can lead to dangerous side effects and severe complications. For example, excessive tiredness during the day can cause problems with operating machinery. If this is part of your job, it can put your life and the lives of others at risk. Further, interruptions in breathing at night disrupt oxygen flow to your brain and other vital organs. For this reason, people who ignore their sleep apnea can have problems with hypertension (high blood pressure), a leading cause of heart disease and death in the United States.
According to research published in the Journal of Clinical Sleep Medicine and Contemporary Reviews in Sleep Medicine, it may increase your risk of other health problems, like asthma or kidney disease, if your sleep apnea is chronic. The Journal of Clinical Sleep Medicine also published research in 2014 suggesting that obstructive sleep apnea increases the risk of all-cause mortality, including stroke and cancer.
These are not things you should ignore, and sleep apnea is more than just snoring. Fortunately, there are treatments available. One option is lifestyle changes. The condition is often associated with excess weight, drinking, or smoking. By following a healthy diet, reducing alcohol consumption, exercising, and quitting smoking, you may be able to control your symptoms and limit the number of times you stop breathing during sleep.
If lifestyle changes alone do not work, your dentist may be able to fit you with an oral appliance or device that can open your airway at night. This is particularly helpful for the obstructive form of the condition and is often a great alternative to a bulky or uncomfortable CPAP machine. A custom mouthpiece from your dentist can also greatly reduce or even eliminate snoring.
For more severe cases of obstructive sleep apnea, you may need a continuous positive pressure machine (CPAP) or a surgical fix. Your doctor or dentist can explain your options and help you make an informed choice.
Conclusion
Tell your doctor or dentist right away if you think you may have sleep apnea. The sooner you receive treatment, the quicker you can reduce your risks for certain health conditions associated with this common sleep disorder. There are more options for treatment than ever before — including noninvasive solutions from your dentist. So do not delay making an appointment, as it could very literally be a life-saving decision.
Request an appointment or call Smile Fresh Dental at (248) 720-5771 for an appointment in our Auburn Hills office.
Check out what others are saying about our dental services on Yelp: Sleep Apnea in Auburn Hills, MI.